Become A Writer or Contributor For The #1 Camping & RVing Platform In The World!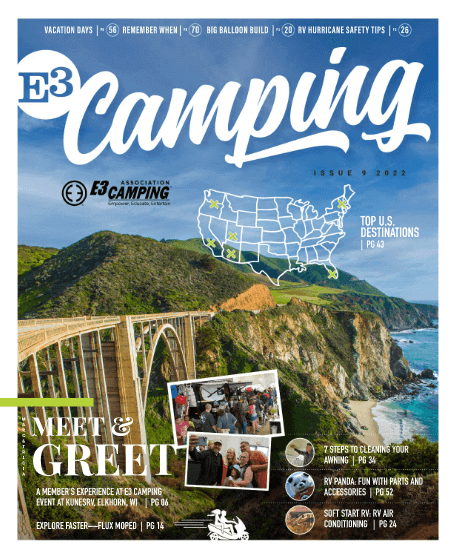 Do you have a passion for the great outdoors, camping under the stars, and exploring the open road in your RV? Are you a natural storyteller with a love for sharing your camping and RVing experiences? If so, we invite you to become a part of our camping and RVing community by contributing to our magazine!
E3 Camping believes that the best stories are written by those who live them. That's why we're looking for fellow campers and RV enthusiasts to share their tales of adventure, tips for successful trips, and insights into the wonderful world of camping and RVing.
Why Write for Us?
Share Your Adventures: Your camping and RVing journeys deserve to be told and celebrated. Let your stories inspire others to embrace the outdoor lifestyle.
Connect with Like-Minded Campers: Our community is filled with passionate campers and RVers who are eager to connect with kindred spirits.
Gain Exposure: Have your work featured in a respected magazine and reach a wider audience while building your writing portfolio.
Contribute to the Camping and RVing World: Your advice, experiences, and insights can make a difference in the lives of those who share your love for the great outdoors.
What We're Looking For:
Personal Stories: Share your memorable camping and RVing adventures, whether it's an epic road trip, a serene campsite, or a funny mishap.
Camping Tips: Provide valuable information, tips, and hacks that can help fellow campers make the most of their outdoor experiences.
RV Lifestyle: Share your experiences living the RV lifestyle, from full-time RVing to RV travel stories.
Gear Reviews: Offer your thoughts on camping and RV equipment, from tents and camp stoves to RV upgrades and accessories.
Destination Highlights: Inspire others with your experiences at campgrounds, national parks, and hidden gems.
How to Get Started:
Send us your article to [email protected].
We'll review your submission and provide feedback if necessary.
Once your article is approved, we'll work together to prepare it for the E3 Camping publication and member platform.
Watch as your words and wisdom inspire our camping and RVing community.
Join us in celebrating the joy of camping and the freedom of RV travel. Share your passion, your stories, and your expertise with E3 Camping today. Together, we'll keep the spirit of adventure alive in the camping and RVing world.
Inquire Here About Becoming A Writer or Contributor!